Ultimate Baby Tracker Notepad™ (Teal, Orange + Yellow 3-Pack)
$19.99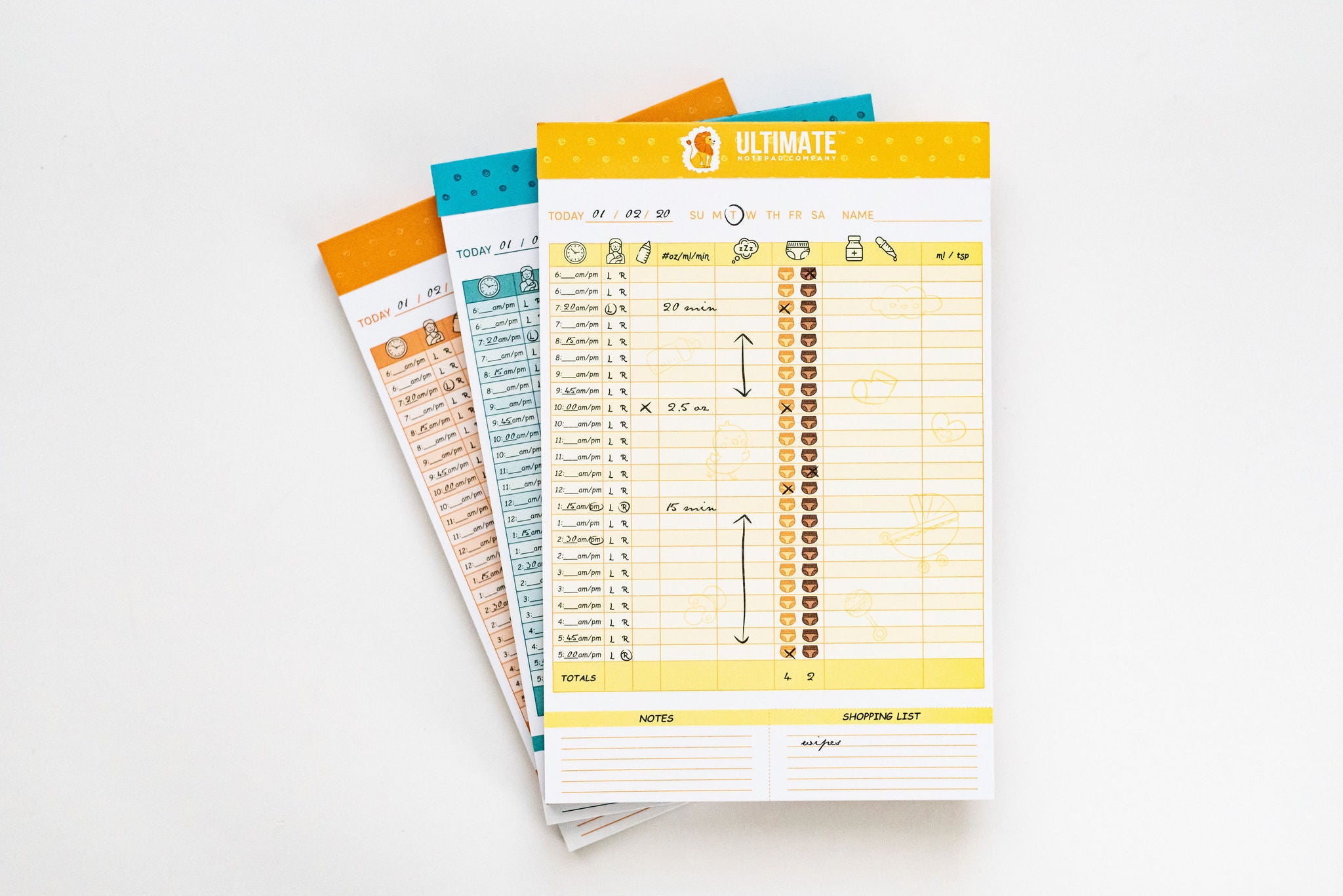 We created the Ultimate Baby Tracker Notepad™ as a simple way to quickly mark off and monitor all types of important information about your newborn baby such as feedings, diaper changes, times you gave them medicine, when they sleep, and so much more. And because they come bright colors with an easy-to-understand structure, you can quickly mark down data and get back to enjoying those games of peek-a-boo.
When you bring a newborn baby home that entire first month gets a little hectic. And when you're sleeping less and still working just as much, you want to be able to keep track of important information about your baby to ensure they're staying safe, clean, happily fed. More importantly, it allows you to better structure your day, their day, and all the time in between, so you can worry a little bit less along the way.
Our Ultimate Baby Tracker Notepad™ makes it easier for you, a babysitter, a nanny and grandparents to stay on top of feedings, diaper changes, and other baby essentials with a simple baby tracking notepad from 
Key Features:
Quick Baby Schedule Tracker – Ideal for parents of newborn babies, nannies, babysitters and grandparents -- our Ultimate Baby Tracker Notepad™ lets you quickly jot down and organize all types of activities like feedings, diaper changes, medicine, sleep, and more.
Parent-Friendly Portable Notepad – Using a smartphone app can be hard and having to write out everything line by line is too time consuming. Our 6" x 9" notepads are easier to keep with you in a nursery, living room, or diaper bag for quick, easy notes.
Fun, Bright, and Colorful Journals – Every order comes with three notepads in three exciting colors and each with adorable baby graphics. This makes using them more fun and relatable, especially as you're tracking number 1 and number 2!
Thick, High-Quality Paper – The Ultimate Baby Tracker Notepad™ for newborns features 50 sheets per pad and uses high quality and durable 24-lb. paper.
Tear-Away Perforated Sheets – At the top of each page is a small perforation that lets you tear away a page when you're done for the day or store it away if you're tracking long-term healthcare needs, medicine rotations, fevers, or other important info.
Product Highlights:
Helps Parents Track Daily Data for Babies
Fun Colors - Each pack includes a Teal, Orange, and Yellow Notepad
Easy-to-Follow Structure for Note Taking
Ideal for New Parents, Grandparents, or Nannies
Features Notes and Shopping List
3 Notepads per pack (one teal, one orange, and one yellow notepad)
Supplements Smartphone Tracking Apps
Notepad Dimensions 6" x 9" overall
Page Dimensions 6" x 8.25"
50-Sheets per Notepad
Keep track of all the important day-to-day stuff in your newborn baby's life with an easy-to-use Ultimate Baby Tracker Notepad™ and always keep their health and happiness in focus. Get a 3-pack today by clicking Add to Cart above.